Le grand cirque sur glace
Event date
Start time
4:30 (pm)
Event description
Event with children

NOUVEAU SPECTACLE 2022
Le Grand Cirque sur Glace : Dreams on ice
Deux heures de spectacle pour toute la famille !
Le grand cirque sur Glace est très heureux de vous présenter son tout nouveau spectacle 2022: "Dreams On Ice".
Issu d'une longue tradition Russe, le mariage du cirque et de la glace émerveille autant qu'étonne le public au travers d'un spectacle féerique, musical, et totalement inédit !
La traditionnelle piste de sciure laissant place à une authentique piste de glace, le ballet des patineurs du Grand Cirque sur glace, placé sous la direction de Veronika Kushnikova, se pare de costumes aussi chatoyants qu'extravagants et vous transporte dans un tourbillon de rêves et d'émotions. Ce surprenant ensemble chorégraphique vous accompagne pour un voyage extraordinaire à travers l'histoire des grandes civilisations, la culture populaire et les légendes urbaines.

"Le Cirque et la Glace en fusion"
Nos chanteurs live et les danseurs sur glace vous accompagnent durant les deux heures de spectacle avec des tableaux à la fois surprenants et majestueux : la Russie des Tsars, les légendes Incas, Le tour du Monde des comédies musicales, Hommage au Rock'n'roll, sans oublier Bollywood Parade et l'Incontournable Reine des Neiges! Tour à tour, applaudissez nos talentueux et fantastiques équilibristes, frissonnez avec nos impressionnants numéros aériens, admirez nos audacieux et téméraires acrobates, et bien sûr riez aux éclats avec les pitreries du duo de clowns Non-stop totalement inédit en Europe.
Un spectacle endiablé et inédit à ne pas manquer pour toute la Famille.
Billeterie : https://www.cirque-vip.com/achat-de-places-glace?utm_source=WeezTarget&utm_medium=mail&utm_campaign=1468328
CHACUN S'OCCUPE DE SA RESERVATION.
NE VOUS INSCRIVEZ QUE SI VOUS ETES SUR DE VENIR.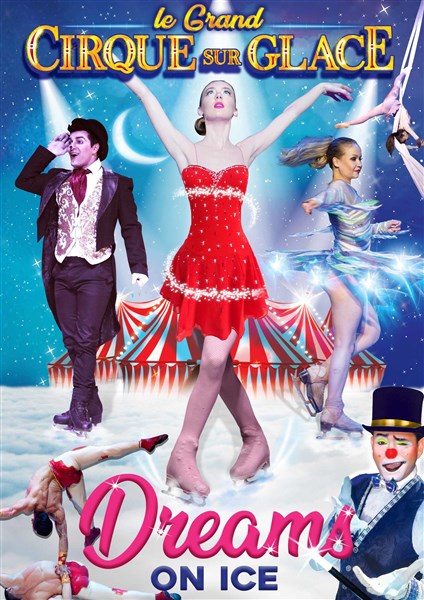 Multiple registration possible?
Maximum slots available
YesEx: John (+2)
10
Exact address
meeting location
To know the exact rendez-vous point, log in!
To know the exact rendez-vous point, log in!

List of registered members
(7/10 , available: 3)